July/August 2015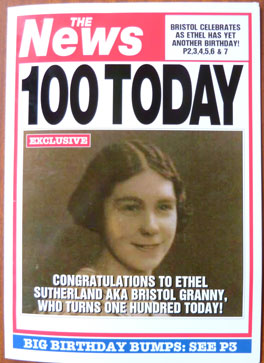 It's been a while since I posted some news and that's because my mother died in July, but as she said herself when I saw her in May - 'She'd had a good innings' - and that was certainly true because she'd reached the grand old age of 101. It doesn't come any easier though, even if you half expect it's going to happen at some point. However, it hardly seems a year has passed since we celebrated her 100th birthday. You may think it strange I hadn't seen her since May, but we live many hundreds of miles apart, so it meant I didn't see her often, and the rest of my family live near her in Bristol so she was well taken care of. Besides, she was a sprightly old lady who lived independently, doing her own cooking and cleaning right up until the end. I just hope I have her genes. The funeral was a sad occasion, and I went to Bristol to be present, although counting the travel it meant I was away for three days.
I thought you might like to see a couple of photos taken at her 100th birthday party, and I wish you could have seen her dance at it. But the next best thing is a photo and here it is. And, of course, we can't forget her birthday card from the Queen.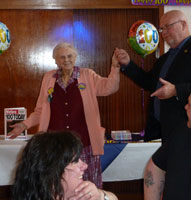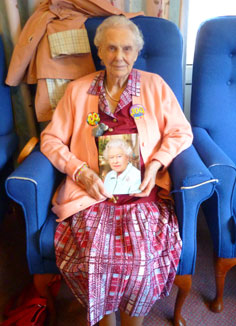 August started badly, my backup computer died on me. It was the first computer I built and I was fond of it, which meant I didn't want to rush out and buy one from the nearest computer store, so I upgraded it with a new motherboard, processer, and more memory. This meant it was now a more powerful computer than the one I was doing all my work on which was the second computer I built. It seemed daft to keep working on a less powerful computer which was also starting to age, so I swapped them over. However, because my brand new upgraded computer had died on me, it meant I had to install all my software again and move loads of files from the computer which was now downgraded in status to my backup one. This was pretty time consuming and my work in progress, the new novel, has suffered as a result. But I'm back on stream now so there's no stopping me.
The latter half of August marked my acceptance of a seat on the Society of Authors in Scotland committee. When I finally finished work in my chosen career, I had sworn I would never sit on another committee, but how could I resist the Society of Authors, which does so much work for authors in Scotland and in the UK. I just hope I'm up to the job.
The month rounded off with a lovely lunch with my CWA (Crime Writers' Association) pals in Edinburgh. Now I'm getting ready for Bloody Scotland in September. I'm sure it will be a blast.
Details

Hits: 2148
June 2015
June has been a quiet kind of month. The main news is the publication of a box set of The Dundee Crime Series which allows readers to receive three full length novels for the price of two, a bargain if you haven't read any of the previous novels. I had my doubts about how popular the box set would be, because a lot of readers have already read at least one of the books, and loads of them have read all three. However, the box set, which the Bookaholic blog site described as a deadly trio of novels, has been selling well, so I suppose I must be attracting new readers. I've been quite taken aback at how popular this series is, and DS Bill Murphy seems to have attracted hordes of followers. I find that strange, particularly as I'd never anticipated he would be the main police character. I'd planned for that to be his colleague, DS Sue Rogers, but when I was writing the first book, Bill Murphy elbowed her out of the way and claimed top spot. I wonder if the books would have been as popular as they are if I'd stuck with Sue. If you're interested in having a look at the box set you'll find the link at the bottom of this post, and of course you'll find further details on each book's separate page.
You've probably guessed I don't have much of a social life, too busy trying to write my next book, but I did have lunch with my CWA (Crime Writers' Association) friends in the middle of the month. Alex Gray is to be thanked for arranging these lunches, and it's great to catch up with fellow writers every now and again. A week later my grand-daughter Amy was on stage in Annie, so I had to go along and support her. I also went to an event arranged by Police Scotland to celebrate the 100th anniversary of women police in Scotland. Imagine my surprise when I opened a folder containing the Baird Report which had a large yellow Post-it note attached inside the front cover which was in my handwriting. I must have given it to Dundee Police Museum at some point, but it must have been a long time ago because I can't remember doing it. Maybe the dreaded Alzheimers has caught up with me!
The new book is gradually taking shape, but it's a slow process. The characters haven't been particularly cooperative with me this time, but I think they're starting to open up. Thank goodness for that because I have readers clamouring for my next book. One even stopped me on the street today to tell me to hurry up with it. So, I suppose I'd better sign off and get back to the writing. Here's until the next time.
Chris
Dundee Crime Series
Details

Hits: 2362
May 2015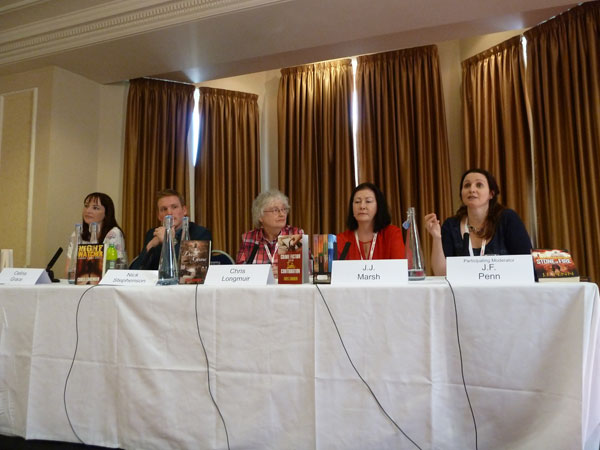 I'm slightly late posting the May news because my computer went into meltdown and it's taken me ages to get things sorted, but I'm up and running now. So, what happened in May? Well the main thing was Crimefest. In case you don't know that's an annual crime convention held in Bristol for readers and writers of crime, both fiction and non-fiction. I've been going for several years now, and it's a great place to meet up with old friends and to make new ones. It's a friendly convention and everyone gets to know everyone else. There are loads of panels and author interviews, and I was on the Emerging Indie Voices panel, although I think I've been emerging for quite a long time now. The panel moderator was Joanna Penn, an energetic and very successful indie author. I think it's fair to say this panel was one of the highlights of Crimefest, and I really enjoyed being on it.
The other event I did was a visit to Forfar Stroke Group, a lovely set of people, and it was a pleasure to speak to them. Other than that, the new book is progressing very slowly, and I'm at the stage where I wonder whether the story is going to work. But every author hits that block in every book they write. It's a time where you start to doubt your own abilities as a writer, and I'm hoping once that hurdle is passed, as it usually does, the book will come on in leaps and bounds.
I know I shouldn't mention this as this is part of the June news, but I've published a box set of the Dundee Crime Series, so why don't you have a look at the web page I've put up for it.
March/April 2015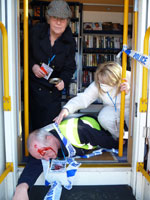 It's been a busy time this past month. As well as having all the hassle of redecorating the living room, new carpets, new suite etc (I'm not really a domesticated person), I've had several events. It's either a feast or a famine, nothing for ages, then everything comes at the same time. So what have I been up to? I'll list the events below.
The Birkhill Mobile Library - talk;

Forgan Arts Centre Book Fair;

Angus Writers Circle - crime story competition adjudication;

Tartan Treasures - diary entry competition adjudication;

Murder Mystery event at Carnoustie Library;

Angus Writers' circle - presentation and talk re winning competition entries;

Tartan treasures - prize giving ceremony:
In the middle of that there was the SAW (Scottish Association of Writers) conference at Cumbernauld. But that was a blast because, apart from all the excellent workshops and speakers, I won the best self-published book award for The Death Game. As this is a completely new competition I am the first winner of the trophy.
There are still some events in the pipeline. I've been asked to speak to the Forfar Stroke Group, probably in May but the date is still to be confirmed. And of course there's Crimefest, the big crime writing convention in Bristol. I'm on the Indie Panel this year, and if it's as good as the one they had last year, it will be great.
To top it all I'm trying to get my new web site up and running, and this will be the first post for the new site. I suppose all my previous news posts will now go into limbo. It's an exciting time.
Details

Hits: 2632
Would you like a free
short story?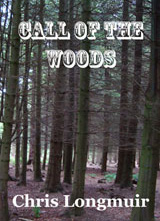 Sign up for my mailing list and
meet the child that became the man.
Bill Murphy before he became a policeman