February/April 2016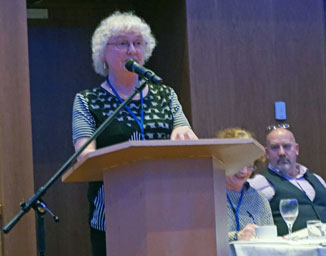 First of all, I want to apologise to anyone who tried to access my website last week, I had a major meltdown which made it inaccessible and after a lot of hair tearing and choice language I had to give up the attempt to repair it. After admitting defeat, something I never like to do, I deleted the system files and reinstalled completely new ones. As you can imagine, this was a lengthy process and my site was completely unavailable for the best part of a week. So, once again, apologies for that.
The beginning of the year is always a quiet time and I've been plodding on with my new book, a Kirsty Campbell one this time, but plodding is the word, although the end is almost in sight. This has been a difficult book to write due to the complexity of the characters and the plot, and there have been times when I thought it wasn't working, but then all authors experience that when writing a book, so I'm not alone.
In February, a visit to the Anatomical Museum in Edinburgh was interesting and I wrote a blog post about it if you are interested. If you click on
Museum with a Macabre Twist
it will take you to the post. And, of course, as I am now a committee member of the Society of Authors in Scotland, there were several committee meetings to attend during the first part of this year. I also continue to be a member of the online
Authors Electric
collective for which I provide a blog post once a month. They post a new blog post every day, and my day is the 19th of every month. With 29 authors posting to this site there's always something of interest to be found.
Then in March, I was booked to speak at the annual conference of the Scottish Association of Authors which is affectionately known as SAW. I adjudicated the self-published book competition, and it was quite a difficult task because the books submitted were all of a professional standard, indistinguishable from traditionally published books. The weekend was stimulating and I was able to enjoy the various speakers until it came time to present my own workshop which I called The Nuts and Bolts of Self-Publishing. It was well attended and the attendees were interested in my presentation, so much so that we overran by 15 minutes. But the highlight for me was the keynote speaker, Caro Ramsay, who had a poke at all the well-known writers there in her usual good-humoured way. When it was my time to be insulted she drew a brilliant picture of a zombie filled Dundee which came about 'the year that Chris went hybrid'. So, if you find any zombies in Dundee, it's all my fault. My blog post is titled
The Dundee Mafia and the Year Chris went Hybrid
if you're interested in having a look.
There were also a couple of book launches over the period. My good friends Mark Leggatt, and Wendy H Jones, published their new books, and of course, a couple of Crime Writers' Association (CWA) lunches. I love attending these. It lets me catch up with other Scottish authors, and the chat is always good.
So, now I need to catch my breath and continue writing the new book, hopefully, it won't be long now before it is finished. I'll see you again soon.