September 2015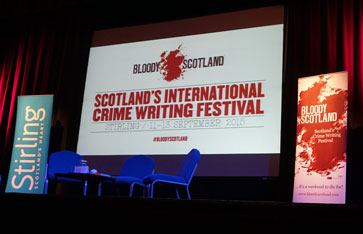 Unlike the last two months, September has been busy for me. The month had hardly started before I was sitting on a train, heading for Stirling, and the annual Bloody Scotland festival which celebrates crime writing. This festival just gets better year after year, and I reckon it gives the Harrogate Crime Writing Festival a run for its money. This year I was acompanied by my 13 year old granddaughter, and she had a ball. She enjoyed it so much she wants me to book her in for it again next year. I've done a
blog post
on it, and if you want to check it out just click on the link at the side of this page.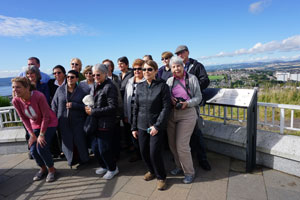 I hardly had time to draw breath before I was off on a reading tour of Dundee, accompanying an American tour group and giving readings at various sites which I use in my books, including the Howff Cemetery, Verdant Works, Camperdown Zoo, and Templeton Woods. They were really interested in how to throw a live and kicking body over the electrified fence into the bearpen at the zoo. I'll be blogging about it on
Authors Electric
on the 19th October. We had a wonderful day and I made new friends. The next day I accompanied the group to Auchmithie, a small fishing village 3 miles north of Arbroath. We had lunch at the celebrated But n' Ben restaurant followed by a historical re-enactment by the villagers. I gave readings from A Salt Splashed Cradle, in the restaurant and in the church where the re-enactment took place. And I'll be blogging about this visit on
Authors Electric
on 19th November. If you've never visited the
Authors Electric
blog site then it's time you did. There's a new blog post every day written by one of the 29 members, plus a few guest ones. The blog is well worth a visit.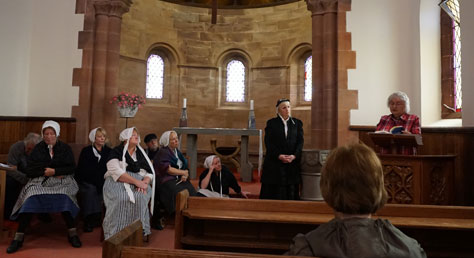 Later that same week I met my Canadian friends Don and Melanie Robertson-King in Dundee. It was great meeting up with them again on their tour of Scotland, and we tried to fit in as many of the sights of Dundee as we could. Melanie has blogged about our day in Dundee, you can find it on her blog site
Celtic Connexions
.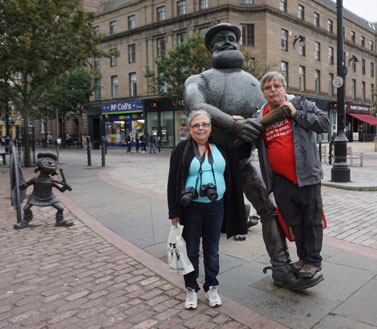 All of this happened over a ten day period, so you can imagine I was knackered by the end of it. However, I loved every minute of it. But, I wasn't finished yet. Ten days later, just enough time to get my breath back, I was off to Edinburgh for my first committee meeting as a Society of Authors in Scotland committee member. I'm a great supporter of the Society of Authors, they do so much to help authors in what is becoming an increasingly difficult climate for many of them. I think all authors should consider joining this organisation, there are many benefits. Check the society out here,
Society of Authors


Now, all I need to do is wait and see what October has in store for me.