July/August 2015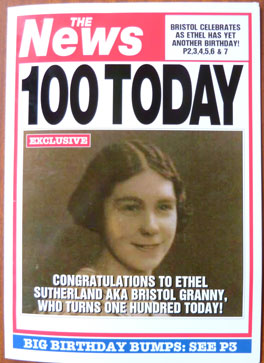 It's been a while since I posted some news and that's because my mother died in July, but as she said herself when I saw her in May - 'She'd had a good innings' - and that was certainly true because she'd reached the grand old age of 101. It doesn't come any easier though, even if you half expect it's going to happen at some point. However, it hardly seems a year has passed since we celebrated her 100th birthday. You may think it strange I hadn't seen her since May, but we live many hundreds of miles apart, so it meant I didn't see her often, and the rest of my family live near her in Bristol so she was well taken care of. Besides, she was a sprightly old lady who lived independently, doing her own cooking and cleaning right up until the end. I just hope I have her genes. The funeral was a sad occasion, and I went to Bristol to be present, although counting the travel it meant I was away for three days.
I thought you might like to see a couple of photos taken at her 100th birthday party, and I wish you could have seen her dance at it. But the next best thing is a photo and here it is. And, of course, we can't forget her birthday card from the Queen.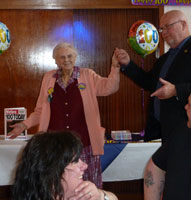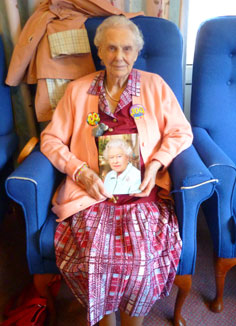 August started badly, my backup computer died on me. It was the first computer I built and I was fond of it, which meant I didn't want to rush out and buy one from the nearest computer store, so I upgraded it with a new motherboard, processer, and more memory. This meant it was now a more powerful computer than the one I was doing all my work on which was the second computer I built. It seemed daft to keep working on a less powerful computer which was also starting to age, so I swapped them over. However, because my brand new upgraded computer had died on me, it meant I had to install all my software again and move loads of files from the computer which was now downgraded in status to my backup one. This was pretty time consuming and my work in progress, the new novel, has suffered as a result. But I'm back on stream now so there's no stopping me.
The latter half of August marked my acceptance of a seat on the Society of Authors in Scotland committee. When I finally finished work in my chosen career, I had sworn I would never sit on another committee, but how could I resist the Society of Authors, which does so much work for authors in Scotland and in the UK. I just hope I'm up to the job.
The month rounded off with a lovely lunch with my CWA (Crime Writers' Association) pals in Edinburgh. Now I'm getting ready for Bloody Scotland in September. I'm sure it will be a blast.