June 1919
It's been quite a while since I updated my news page and a lot has happened since then. I now have nine books published, three in the Dundee Crime Series, three in the Kirsty Campbell Mysteries, and two nonfiction books one of which sells well and one which doesn't! The best seller of my nonfiction books is The Nuts & Bolts of Self-Publishing which is a step-by-step guide on how to publish ebooks and paperbacks and a lot of writers have found it helpful.
As well as writing and publishing I've now taken to the road and sell my paperbacks at bookfairs, craft fairs and markets. As well as earning me some pennies it gets me out of my study to meet real live people instead of the characters in my books who are my constant companions.
Conferences and book festivals are still on my agenda and three of my favourites are the Scottish Association Of Writers conference in March, Crimefest in May and Bloody Scotland in September. These are the ones I try not to miss.
I'm still chiselling away at my new novel which is the first one in a new series. It's a historical murder mystery set in the early part of the twentieth century, 1908 to be exact, and it is a suffragette mystery series focusing on both the murder and the mystery element as well as the lives of the main characters. Hopefully you'll get to meet Martha, Ethel and Kirsty before the end of the year.
Details

Hits: 807
December 2016

Christmas Offer: And you don't have to kill to get it
I think there must be a blue moon at the moment, because I never, I repeat never, do free offers. But I have one for you this Christmas. It's free copy of the first book in the Dundee Crime Series, Night Watcher, but the offer only lasts until the 18th so you'll have to be quick. Click the link to get Night Watcher http://katherinehayton.com/Thriller/
Happy Christmas everyone, and I hope you get lots of goodies, particularly books in your Christmas stocking.
Chris Longmuir
Details

Hits: 4263
May/August 2016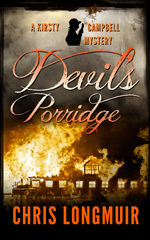 I suppose the biggest news I have for you this month was the launch of my new historical crime thriller, Devil's Porridge, at the beginning of the month. It's been a long hard slog getting this book to publication, possibly because of the complexity of the plot, other things and other books getting in the way, and my own lack of confidence in being able to write this book. The idea for this story planted itself in the writers part of my brain away back in 2008, before I ever had a book published. However, in 2009 I was knocked off course by winning the Dundee International Book Prize, and the publication of Dead Wood, which changed my focus to writing the Dundee Crime Series. Three books later I started to think about Devil's Porridge again, but I already had a book written featuring the main character Kirsty Campbell although this book needed a substantial rewrite to make it fit to publish. But I reckoned I could get it to readers faster than writing Devil's Porridge, so I worked on that one. I was right about the time element because I think I've taken two years to write Devil's Porridge, whereas most of my books only took one year. You'll find a description of Devil's Porridge, and the first chapter for you to read, in the Books menu tag at the top of this page.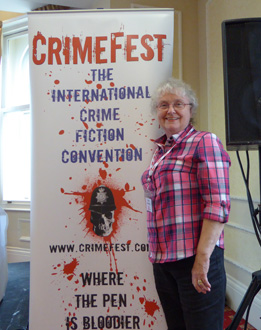 Other news since I last wrote to you includes Crimefest in May which was brilliant as always. And, of course, a chance to catch up with my family in Bristol although, sadly, this year my mother wasn't there because she passed away last year at the grand old age of 101 well lived years. I also attended several events during this period, including one with the theme of 'Fantasy' arranged by my own writers' group, Angus Writers' Circle, in collaboration with the SAW (Scottish Association of Writers). The other notable event was the one to Hospitalfield House which I arranged for the SOAiS (Society of Authors in Scotland) which was a brilliant success. There were several other SOA meetings and CWA lunches, all enjoyable. And lastly, I want to mention a visit to the Westerwood Hotel in Cumbernauld, to check out the suitability of this as a venue for the SOAiS conference in 2017. I must say I, and the two other committee members who were with me, were suitably impressed.
As we are only at the beginning of August there are several things still to come. There is the SOAiS AGM, followed by a lunch, in Edinburgh, and a CWA lunch the same week, probably followed by a visit to the Book Fair at the Edinburgh Festival. There is quite a buzz in Edinburgh at this time of year. The following week I have a full week of events travelling around Angus libraries, culminating in an event by The Dangerous Dames at Montrose library on the Saturday morning. And in case you haven't heard of the Dangerous Dames, that is a trio of crime writers who base their books in Dundee, and they are (drumroll) Chris Longmuir (me), Wendy H Jones and Jackie McLean. It should be a criminally good event.
I hope I have energy left after this month because September up until December is going to be incredibly busy. I have a full diary of events in Angus, Dundee, and London, so it's going to be a busy year.
Details

Hits: 1850
Would you like a free
short story?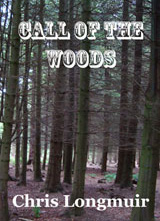 Sign up for my mailing list and
meet the child that became the man.
Bill Murphy before he became a policeman