ScotsWrite 17 was a Blast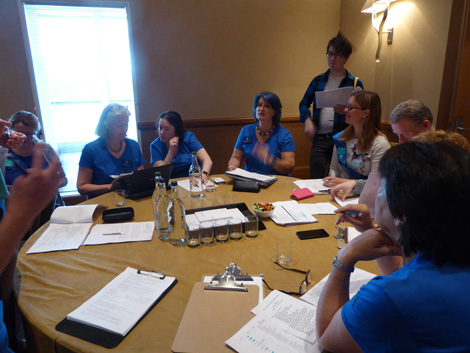 Two years in the planning but the Society of Authors in Scotland conference ScotsWrite was a roaring success although now it's all over I have to admit to being a bit knackered.
Decked out in our royal blue tee shirts and/or sashes we were constantly on the go. My Fitbit, which monitors how much exercise I take and how many steps and miles I walk, almost collapsed with exhaustion. And at the end of each day, I also collapsed into bed thinking I'd never make it to breakfast the next morning. But I always did. Plus I had to be bright and breezy for the morning team meeting where we did our planning to ensure all the delegates got an amazing experience.
I think we succeeded in providing that amazing experience because there was a definite buzz during the conference and many demands for us to do it again next year. However, there were no plans to make this an annual event. It was meant to be a one-off and given the fact this conference was two years in the making the logistics would rule out another event of this nature next year. But it has planted the idea that this cannot be a one-off and that there might need to be thought given to a repeat in the future. I, for one, certainly hope it can be done again.

Read full blog