October 2015
To celebrate Halloween I decided to do something different and post an article on the Forfar witches focusing on Helen Guthrie, the last witch to be executed when the witch hysteria that was endemic all over Europe in the sixteenth and seventeenth centuries was coming to its end. This article was previously published in The Highlander.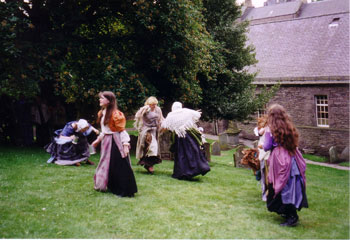 THE WHITE WITCH AND THE PRETTY DANCER
Fear of witchcraft was common in 1661, when witch-fever was at its height in Forfar, a small country town in the north east of Scotland.
Most people thought that any misfortune befalling them was caused by magic. Loss of livestock, bad crops, illness and death, were thought to result from spells cast by witches. Accusations of witchcraft in the town were rife and the archives of Angus Council bear testimony to many witch trials and executions.
Witch hysteria reached its height in Britain during the sixteenth and seventeenth centuries, resulting in witchcraft becoming a capital offence in 1563. Witch persecution sent many people to their deaths until the witchcraft laws were repealed in 1736.
Between 1661-1663 forty-two Forfar people were accused of witchcraft. Seven of those accused were executed while the fate of some of the remainder is unclear. One woman, Helen Guthrie, played a major role, and although she was not responsible for the start of the witch hunts she did have some influence on their continuation.

Read the full blog