Dundee Crime Series Book One
ebook and paperback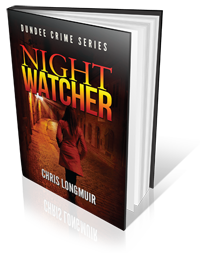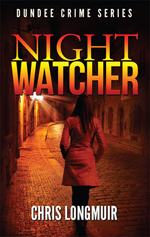 Review quotes
Alex Gray
"Night watcher is the sort of novel that keeps the reader glued to its pages, frantically guessing as the plot takes numerous twists and turns." – Alex Gray, Crime Writer
Catherine Czerkawska
"This is a complex and very well crafted tale, beautifully put together -full of a sense of foreboding, and full of menace." – Catherine Czerkawska
JB Johnston
"Chris Longmuir creates a very atmospheric story in this book and provides us with some insight into the mind of the `Night Watcher' which serves its purpose - to make the reader look over their shoulder every now and again just to make sure they are alone! I could not fault this book at all except to say that made me sit open mouthed at the end and I looked like an idiot! The book is superbly written and Chris Longmuir is extremely talented, drawing the reader deeply into the story and guessing right to the end."
- JB Johnston
Anneli
"Throughout the book Longmuir plays off good against evil, in all her characters. Right until the end we wonder which will prevail. We are hooked until we read the "nail-biter" ending.
I'm afraid very few chores got done around home until I finished reading Night Watcher."
- Anneli
WS Kirton
"Another book which proves that Chris Longmuir, who wrote the prize-winning Dead Wood, knows the ingredients you need for a tense, satisfying crime novel and can put them together in a way that keeps multiplying the cliff-hangers and keeps you asking what will happen next. Love is transactional, infidelity is the norm and Longmuir keeps the focus tightly on them as the night watcher observes them from his shadows. The resolution is delayed up to the final pages with not just one twist, but two. It's a very enjoyable read from a writer who knows what she's doing." - WS Kirton
Valerie Laws
"The first in the Dundee Crime Series, Nightwatcher is about revenge, obsession, and stalking. But far from the stereotyped 'psycho man stalks helpless women' scenario which is all too familiar, Longmuir has created a set of flawed, suffering yet sympathetic characters, and the stalking is not all by men.
There is a strong police procedural strand to the novel, and we meet some all-too-human officers, including DS Bill Murphy who is no Sherlock Holmes or Spenser - a basically caring man who gets too involved with victims of crime, but who is a bit slapdash about official procedures. The stage is set early in the book, and the drama plays out, keeping the reader firmly seated and gripped until the end." - Valerie Laws
Kathryn Brown
"Another fantastic read in Chris Longmuir's The Dundee Series of thriller, suspense novels. Once again, on the edge of my seat all the way through, eager to turn the page yet disappointed when it came to an end. And what an end it is! Massive WOW factor! Hugely recommended." - Kathryn Brown
UK links: Amazon Apple iBooks Nook Kobo
US links; Amazon Apple iBooks Barnes & Noble/Nook