Dundee Crime Series Book Three
ebook and paperback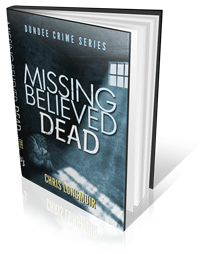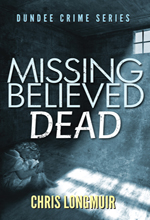 Review Quotes

Julia Jones
"This is competent, confident crime-writing: the sort that keeps the reader wanting just one more chapter ... and another and another. I read with pleasure and almost without pause and I now look forward to catching up on Longmuir's earlier series titles, Night Watcher and Dead Wood."
- Julia Jones
Michael Baker
"Very good read, kept me guessing who really was the killer. Well thought out and good plot line. It will keep you guessing."
- Michael Baker
Reb MacRath
"This tough Scottish author runs a pair of devilish games here--and is in commanding charge of both. First, for mystery lovers, there's a wicked shell game that defies figuring out: Jade, a kidnapped 13-year-old girl presumed dead, may have come back five years later to punish sexual predators. Or could "Jade" actually be her mousy twin, Emma...her haunted mother Diane...or her cross-dressing brother Ryan? Excellent though this game is, the second game is better still: without sacrificing the fun or the pace, composing a serious novel, with a stirring sense of place, about traumatized family survivors. This third entry in Chris Longmuir's Dundee crime series has left me hungry to read the other two starring the wonderfully imperfect cop Bill Murphy. And I'll look forward to the fourth book for the return of Kate Rawlings, the tough new supervisor Bill acquires in this book. There are few pleasures in life to compare with finding a new mystery writer to love." - Reb MacRath
Valerie Laws
"Chris Longmuir's latest Dundee Crime Series novel kicks off like a steroid-crazed Bruce Lee - hooking the reader at once. But no, the enjoyable torment beloved of crime fans continues to the end! The author has great skill at tightly-drawn plotting and also at drawing characters who are believable and whose experiences have marked them in credible ways - but just who are victims and who are perpetrators, here?
This book brings back detective DS Bill Murphy, who is compassionate but a bit casual in his methods, and now we have a new cop in the form of takes-no-prisoners Kate Rawlings as his new, unimpressed, superior. I hope she will stick around, I feel their partnership will be a major asset to the novels, as we see things from both their points of view and, like the two of them, learn to appreciate the qualities of both. I look forward to their next case!" - Valerie Laws
H Philpott
"This caught my attention from the first page right to the end excellent read." - H Philpott
Catherine Czerkawska
"You should be warned that this is a harrowing read - it is, after all, a psychological crime thriller, involving paedophilia and murder. The subject matter is grim and at times it's a distressing read too. But the characters - especially the police involved - are real, vivid, well rounded and engaging. The pacing of this story, the way it 'hangs together' simply pulls you onwards to the end. The city of Dundee is clearly well known to the author, and almost becomes another character in the novel, so vividly and - yes - lovingly is it depicted by a writer with a finely tuned sense of place. But most of all, I found myself admiring the sheer craft of this novel, the breathless intricately intertwined string of events, the way in which this reader at least really needed to know what happened next! The author is a very fine storyteller indeed." - Catherine Czerkawska
Bill Kirton
"If you want to know how to write an opening which draws the reader in, check out the first chapter of Missing Believed Dead. Be warned, though - you'll want to read on and on. This is the third in Chris Longmuir's Dundee series featuring D.S. Bill Murphy, whose personal life is still something of a mess but who cares a lot about the victims, potential victims and collateral damage of the crimes he investigates. The arrival of a new D.I., Kate Rawlings, who's unimpressed by his apparent sloppiness, adds to the pressures on him. Most of all, though, the focus is on the family of Jade, a 13 year old girl who disappeared five years before, the victim of an online predator. But there have been other, more recent murders and Murphy suspects they're somehow linked with the family, too.
With her usual fascination for the darker recesses of people's psyches, the author shows us the separate torments of Jade's mother, sister and brother, each of whom is scarred by her loss. And all the time, in the background, there's the mystery of another abducted teenager for whom the clock is ticking inexorably towards what threatens to be a painful, fatal outcome. Altogether, it's a dark, scary picture of an apparently ordinary world of ordinary people whose actions and motives betray the demons within them." - Bill Kirton
UK links: Amazon Apple iBooks Nook Kobo
US links: Amazon Apple iBooks Barnes & Noble/Nook