Dangerous Destiny: A Suffragette Mystery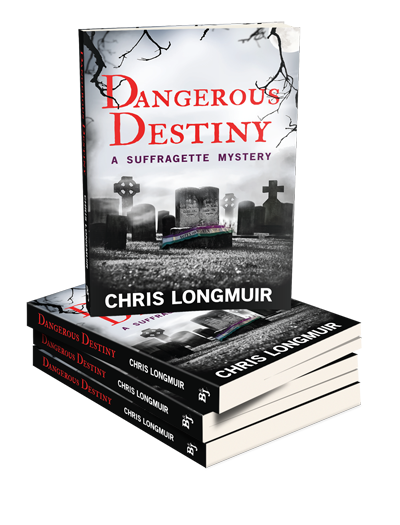 Dangerous Destiny: A Suffragette Mystery
Dundee, Scotland, 1908
Suffragettes are dying. The police aren't interested, taking the attitude 'good riddance to bad rubbish'.
Three suffragettes band together to find the truth.
Kirsty, a naive young girl unable to escape her controlling family and the secret of her past, lives a sheltered life with her parents in their Broughty Ferry mansion. When she becomes interested in the suffrage cause she is aware her father will disapprove and does not know if she will have the courage to defy him. Despite this, she becomes increasingly involved with Dundee suffragettes.
Ethel is a working-class mill girl fleeing from her abusive home and vicious father who has sworn to kill her rather than allow her to be a suffragette.
Martha is a seasoned suffragette seeking justice for her friends. Kirsty and Ethel come under the wing of Martha, who protects them and encourages their aspirations. But when suffragettes are found murdered with 'Votes for Women' sashes wound around their necks, they band together to hunt the killer.
Will Kirsty and Ethel forge a new destiny for themselves?
Will Martha unmask the killer? And will she survive?
A coming of age story with murder and mystery at its heart.
UK Links:
eBook: Amazon
Paperback: Amazon
US Links:
eBook: Amazon
Paperback: Amazon