Introduction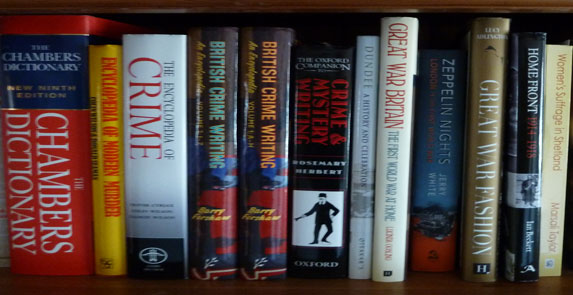 The idea for this book came from some blog posts I wrote for an online book festival. I was approached by the organizer and asked if I would submit a series of articles on crime fiction. The festival planned to run for fourteen days, and my remit was to supply twelve items on crime topics.
After some thought I decided to base the twelve articles on the subgenres of crime fiction, ranging from mystery and cosy, through to noir. Initially, I thought I could use books I had previously read to illustrate these articles, but on further examination of my task I realized that this would not be appropriate.
Electronic books are fairly new on the scene, a few years at most, which meant the bulk of my lifetime of reading had been provided by traditional authors with traditional publishing deals. This was a problem because the online festival is all about electronic books, and this dictated that all my reading choices had to be e-books. Moreover, because the festival promotes indie authors, the name by which the new breed of independently publishing writers have become known, those e-books had to be written by indie authors, or be published by indie publishers.
I embarked on the research with enthusiasm because I have been reading crime fiction most of my adult life, as well as more recently writing it. My resources were mainly secondary ones. I consulted studies on crime fiction, reference books on the subject, and ones which took a wider view of all genres of fiction. And, of course, this being research into the independent world of e-books, material sourced on the internet had to be included. Finally, I read a wide range of indie crime fiction to illustrate the subgenres I was writing about.
I wrote twelve blog posts in total, and in each of those posts I considered three books from the indie range of crime authors. It took me a good six months to read all the books I featured in my posts, plus a few more novels which were scrapped as not measuring up to the standard I was looking for. This amounted to a formidable number of books. Nothing daunted, I made my list of books to fit the categories I intended to discuss, and buckled down to it, writing each blog post as soon as I had finished each section on my list. The posts were subsequently featured on the festival pages where they were well received and widely read. This confirmed to me that there was considerable interest in the subject.
The online festival which was the Edinburgh e-Book Festival – not the traditional book festival in Edinburgh – but one which ran alongside it and catered for a worldwide electronic community who had no access to the physical festival. All that was needed to take part was access to a wireless connection and the internet, as well as an electronic device, for example, a computer, smartphone, or a tablet computer such as the iPad.
The first ever Edinburgh e-Book Festival was held in 2012, and is scheduled to be repeated on an annual basis every August. The festival features the indie writers and publishers of e-books. A programme of events is scheduled for set times during the day over a 14 day period which runs at the same time as the official Edinburgh Book Festival. But where the official festival is concerned with traditionally published print books, the online festival, by its very nature, is digital and was originally text based. The digital world is expanding, however, and the festival now has video input, as well as interactive workshops. I anticipate it will continue to expand, and thought has already been given to Skype and video conferencing.
The festival is organized and run by Cally Phillips, and in her words, "e-books are consumed digitally, so why not have a digital festival for e-books."
The articles I wrote for the festival generated a great deal of interest, but following the closure of the 2013 festival the information was removed from the site. I have been contacted by many people who still wanted to read the original blog posts, and this is the main reason I decided to incorporate them into book form.
The task has been greater than I anticipated because it has meant expanding and rewriting the original blog posts in a style more suited to book form. I have also incorporated a short history of crime fiction, as well as more information in connection with e-books, publishing options, and the emergence of the indie author. Additional categories of crime fiction have been added and a more in depth look at all the subgenres.
Over the course of this book I will look at indie crime fiction and attempt to assess how it compares with traditionally published books. I will try to give some guidance to readers in an area of publishing which is expanding at a phenomenal rate. It is my hope that by doing so I will encourage readers to experiment with their choice of authors and books.
UK links: Amazon Apple iBooks Nook Kobo
US links: Amazon Apple iBooks Barnes & Noble/Nook